OB Hospitalists – South Bend, IN
Obstetrix Medical Group is seeking OB Hospitalists to join our practice at Beacon Health System, Memorial Hospital in South Bend, just a short distance from Chicago!
Generous compensation package!
12 or 24-hour shifts providing OB Hospitalist care working side by side with an outstanding group of neonatologists and maternal fetal medicine physicians
Engage with Obsterix MFM physicians to provide quality care for antepartum & intrapartum high-risk patients.
Collaborate with a robust Certified Nurse Midwife practice of 7 providers.
Coordinate care with the Pediatrix Neonatology physicians for the best neonatal outcomes in the region.
Level III NICU & Level III Perinatal Center
Level II trauma center, MedFlight, and specialized Maternal OB transport team.
10 birthing suites and an average of 3 deliveries per 24 hour shift and annual deliveries of approximately 2,000
Participate in teaching activities and other clinical activities associated with the OB Hospitalist program
Clinical research options available through the hospital research program
Research and quality improvement project opportunities exist to collaborate with Mednax physicians
Come be a part of our mission to Take great care of the patient, every day and in every way.™
Memorial Hospital is a 737 licensed-bed hospital and has more than 600 physicians on staff representing over 35 medical specialties. Memorial Hospital has been honored numerous times for its quality patient care, including recognition as the #4 ranked hospital in Indiana by U.S. News & World Report. Memorial Hospital is a Blue Distinction Center + Maternity Care Program * Designated Baby-Friendly Birth Facility.
Beacon Health System locations span across north central Indiana and into southwest Michigan. They are one of the top 2% of hospitals nationwide to achieve a 5 Star CMS Hospital Rating and a AA- bond rating, placing Beacon in the top 10th percentile of health systems across the country. Our physicians and associates enjoy the vibrant surrounding communities which include Elkhart, Granger, LaPorte, Mishawaka and South Bend.
South Bend: Our area is home to several colleges, including the world-renowned University of Notre Dame, providing many options for athletic and cultural events. Combined with the Morris Performing Arts Center in South Bend and the Lerner Theatre in Elkhart, live entertainment is easy to find. A "big little town," South Bend is also home to the South Bend Cubs, a Class-A minor league baseball team. Parks, Potawatomi Zoo and numerous festivals offer family-friendly fun. Nearby, the sandy shores of Lake Michigan beckon with opportunities for camping, hiking or just relaxing. And, with Chicago just 90 minutes away by car or rail, options for weekend getaways are endless.
Benefits
Our clinicians enjoy a competitive compensation package with many locations offering sign on bonuses, relocation and tuition reimbursement.
*Our benefits include:
Health (various options), life, vision, dental and disability insurance
401(k) with annual matching program
Advanced and continuing medical education
Leadership training and advancement opportunities
Employee stock purchase plan at a 15% discount
Professional liability insurance
Support and payment for mandatory license/s and hospital credentialing
*These benefits are for full time employees, employees in other types of employment classifications may be eligible for some of these benefits.
Apply Now
---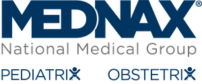 Mednax Services, Inc. is a national medical group. Over the last 40 years, through our network of over 3,500 clinicians in 39 states and Puerto Rico, we have reshaped care delivery within women's and children's specialties and subspecialties. Our clinical teams care for the unique population of high-risk pregnancies and critically ill infants and children in both hospital and ambulatory clinical settings. Over the years, clinicians practicing as part of Pediatrix™ and Obstetrix™ Medical Groups have used evidence-based tools, continuous quality initiatives, clinical research, and telemedicine to enhance patient experience, outcomes and provide high-quality, cost-effective patient care. Our nationwide team of almost 8,000 employees, including physicians, advanced practitioners, clinical leaders, business and operational experts, work together every day to fulfill our mission to take great care of the patient®. We invite you to join the Mednax family and help shape the future of health care. Find additional information at www.mednax.com.
MEDNAX is an Equal Opportunity Employer
All qualified applicants will receive consideration for employment without regard to race, color, religion, sex, sexual orientation, gender identity, national origin, disability or veteran status.
This ad expires on Friday June 4th, 2021